How to Tame- Frizzy Hair|| Tips and Hacks|
Introduction
Frizzy hair. We've all been there, and we all know the struggle. Almost everyone has experienced that moment where you catch a glimpse of yourself in a storefront window only to be stared back at by what can only be described as a lion's mane. Whether it's the humidity or heat damage, or even for seemingly no reason at all, we've all experienced a moment where our hair went all Hermione Granger on us at the worst possible time.
If this scenario of frizzy hair is all too familiar to you, and you're wondering how to deal with it, the first step is to understand what's causing the frizz in the first place so that you can take the appropriate precautions.
If you've ever asked found yourself asking "why does my hair get frizzy?", "how can I get rid of frizzy hair?" or "what are the dos and don'ts for frizzy hair?", we're here to help. We're spilling the tea on all of our favorite frizzy hair tips and tricks to fighting frizz so that you can enjoy smooth, shiny, frizz-free hair.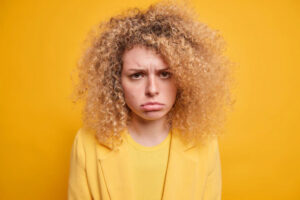 What is frizzy hair?
Frizz refers to the strands of hair that stick out from the rest of your hair—it's the smaller, dryer strands of hair that just won't stay put. Frizz tends to stand up or curl and adopts a different type of texture from the rest of your locks.
Alternatively, the top urban dictionary definition of frizz is "A type of hair invented by the devil himself. Causes your hair to do whatever it chooses, including morning hair in the afternoon. Mostly your hair is uncontrollable and will do the exact opposite of what you want it to do. It can sometimes be tamed if you have the patience to blow-dry it, mousse it, straighten it, hairspray it, and then tie it back."To be fair, this isn't entirely untrue.
What causes frizzy hair
Why does my hair frizz, anyway? Before we begin talking about how to tame frizzy hair, we want to explain what makes your hair frizzy in the first place.
HUMIDITY
One common cause of frizzy hair is humidity and excess moisture in the air. We all know that humidity and heat trigger frizzy hair, but few actually know the science behind why this happens. Admittedly, before looking into this, we didn't know either.  According to How Stuff Works, humidity maintains high levels of hydrogen, and human hair is incredibly sensitive to this hydrogen. This hydrogen forms a bond with your hair's water molecules and proteins, and it's this bond that causes your hair to frizz.
DRY HAIR
Another common cause of frizzy hair is dryness. When your hair gets dried out (or is just naturally dry), it can often become frizzy. The reality is that dry hair longs for moisture, so once exposed to moisture, it tends to frizz faster than, say, oily hair. Let's say you have dry or damaged hair and you go outside when it's humid—what happens to your hair? The hair is dry, which means it wants to absorb all that moisture from the environment. The result? Poof! Hello, unwanted frizz.
This is also why naturally curly or wavy hair tends to frizz more easily. Since naturally curly or wavy hair has the tendency to be dry, the hair frizzes at the first sign of moisture.
DAMAGED HAIR
Damaged hair can often become frizzy, as damaged hair tends to be dry by nature. Habits like applying too much heat to your hair, colouring it too often, or even over washing and dry out your locks leading to damage and result in a frizzier 'do.
Also Read: Unacademy App For PC: Windows 7/8/10 Official Learning App
How to handle frizzy hair
You can combat frizziness by using hydrating products, conditioning masks or serums that protect and smooth your hair, explains Kimble. You should also use mild shampoos or detergents.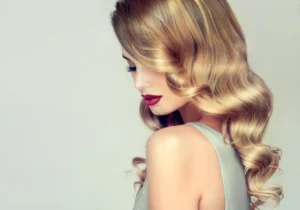 Products to try
Here are some products you can use to try to combat frizz:
1.TRESemme Keratin Smooth Shine Serum
"With this remedy, you can protect both curly and straight hair from excessive heat," explains Davis, so it's a great spray to use before hair-drying or heat styling your hair. "It also seals the cuticle and makes it a lot less probably that your hair will become uncontrollable when you go out."
2.Briogeo Farewell Frizz Smoothing Shampoo
Made with natural oils to lock in moisture and protect against humidity, this shampoo not only cleans you hair but also combats frizz in all types of hair. It also has no harsh sulfates, silicones, phthalates, parabens, DEA or artificial dyes.
3.TSD Hair Flower Extract Conditioner
"Proteins and keratin are the best friends of frizzy hair," says Davis. "You can use this conditioner by TSD to close the cuticle after washing your hair." The conditioner also helps detangle hair, making it easier to brush out.
4.Silk 18 Maple Holistics Conditioner
This conditioner is made specifically to moisturize dry hair and condition your scalp. With natural ingredients, including jojoba and argan oil, it will help tame your frizz and keep your hair shiny and smooth.
5.Hicober 3-Pack Microfiber Hair Towel
Skip aggressively towel-drying your hair with a bath towel and opt for one of these super-absorbent microfiber hair towel turbans. They're super soft, lightweight and easy to use.
6.BioSilk Silk Therapy with Natural Coconut Oil Leave-In Treatment
After you shower, comb in this leave-in treatment to help lock in moisture into your hair and keep it from frizzing. This treatment also help combat breakage too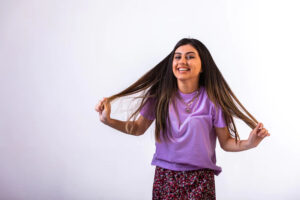 In addition, these steps might also help:
Reduce heat styling.
Use lukewarm water for washing your hair.
Don't wash your hair too often.
Use conditioner or masks.
Avoid harsh products.
Use a microfiber towel to dry your hair.
Switch to a boar-bristle brush.
Use a frizz protectant if you live in a humid climate.
Conclusion:
Frizzy, dry hair can be a nuisance, but there are ways to prevent it and manage it. If you're careful with how you wash, brush, and dry your hair and use the right products, you can help keep your hair healthy and minimize any unwieldy, frizzy hair.